0.  Today's featured website:
1.  Design revisions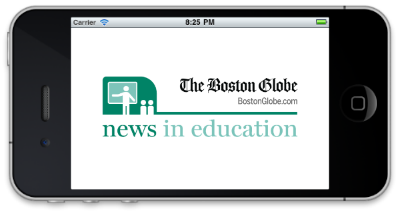 You are going to work on revising the design and features of the test Boston Globe student app.  You will be using the paper wire frames and pen, pencil, and markers to create your designs.
You will work in small groups or individually on different sections and features.
Think:
– How should this LOOK?  What colors or images would you use?  Feel free to use colored markers and to grab images online to flesh out your design.
– What CHANGES would you make to the features?  Use text to explain or draw out your idea.
– Would you include anything NEW?  What would that look like- explain it or sketch it out.  It doesn't have to be perfect!  The concept is more important.
Sections to work on (in groups of 2 if everyone is here):
Home page (the first thing the user sees; what should their impression be and how will they understand what's going on and what to do?)
Make something page (and sub-pages)
Learn something page (and sub-pages)
Explore sources page (and sub-pages)
Find interesting stories page (and sub-pages)
Student page on current NIE website (what would this look like if we include the features from our app?  Re-design the page by changing its layout and color scheme and by adding the features we've included in our app.)
Inspiration 
http://www.pttrns.com/- check out the design of several apps, all in the same place!
http://uxarchive.com/- check out user screens in a variety of different apps